Letter, Large Letter or Packet?
The Letter Size Guide was introduced by the Royal Mail as it realized that it was losing money by charging the same amount for all parcels and packets. So in August 2006 the Royal Mail decided to change how our Post will be charged.
They introduced what they called Pricing in Proportion or PIP as it is more commonly known. So pricing of your post now not only depends on weight but also size.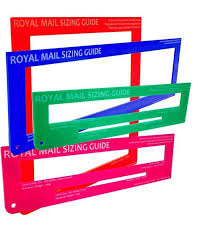 Why the change?
It costs Royal Mail more to sort, handle and deliver larger envelopes and items than they were currently charging customers to send.
Large and irregular shaped packages take up more space in post bags and vans and cost more to handle. This meant that most light but bulky items were priced below cost, whereas smaller, heavier items were generally overpriced. Royal Mail changed their pricing system to more accurately reflect these costs.
This pricing in proportion system means that all mail sent internally in the UK has to be weighed, measured for size and thickness before deciding what the postage is.
It all sounds complicated but really it's not at all.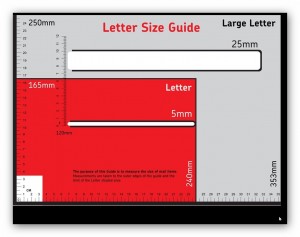 To make sure your post is the right size a letter size guide was introduced by the Royal Mail which meant that you could measure your post and there by put the correct postage on it. If the incorrect postage has been put onto the letter or package then the receiver will get charged if they want to except it. The extra is the difference between 2nd class and the next price point 2nd class plus £1.10
There are many different designs in the market of a Letter Size guide and this web page shows you the different letter size guides available so you can choose the best one that suits you.
Most come with 3 slots which are the correct size for the packet you are sending. If the packet does not slip through with out getting caught then you have found the correct letter size guide for your package.
The first slot is for all mail in letter size, usually a DL or C5 envelope, not being thicker than 5mm. The letter MUST pass freely through otherwise it may be considered a Large Letter.
Large letters must again pass through without getting stuck and goes up to 25mm in thickness.
If your mail does not fit either slot it is then becomes a small or large parcel.
Small parcel is items to be posted up to the size of 2 kg in weight, 35cm in length, 25cm in width and 16cm in length. Any thing bigger is a Large Parcel.
Pricing in proportion only affects mail posted in the UK going to an UK address. This includes the Channel Islands, Isle of Man and Northern Ireland.
The slots on the letter size guide are not required for mail being sent to Europe or Internationally. This includes the Republic of Ireland.