Letter Size Guides
Letter Size Guides come in all sorts of sizes. Here below are a few of the more popular Letter Size Guides that are currently available.
To buy any of these then please go here.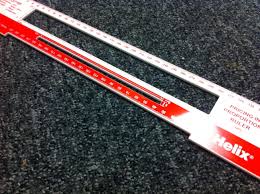 The first letter size guide is designed similar to a normal ruler. This letter size guide is made from plastic and has 2 slots to represent the different letter sizes. Available form various places and selling for about £3 or more plus P&P.
Its available from various places but my research seems to suggest that Ebay has the cheapest.
There are other Letter Size Guides available which can range from nearly £3 to £55 or more depending where they are purchased.